For those with biomass boilers, renewable heat is a critical aspect of their business – but what you buy and use on site can carry more weight than most would think.
In recent months, there have been significant developments and tightening of permitting compliance responsibilities regarding what wood boilers should be burning. For sites only combusting virgin wood sourced from specialised suppliers or their own products like straw or miscanthus, then only the size of the boiler may result in permit compliance, if not pre-existing and under 1 MWth input. However, if a site burns, or is thinking about burning, waste wood or agricultural residues, there are some things to know.
Can I Burn Waste Wood?
You will need to look carefully at your environmental permit and understand what you are allowed to burn. If it states waste wood, there should be a European Waste Catalogue (EWC) Code and description, it may also give a specific grade of the wood. So, as an example, the codes below mean you can only burn Grade A Waste Wood from EWC Codes. They work by splitting wastes into identifiable categories:
Table S2.2 Permitted waste types for use as fuel for in biomass boiler units

Waste Code

Description

19

Wastes from waste management facilities, off-site wastewater treatment plants and the preparation of water intended for human consumption and water for industrial use

19.12

Wastes from the mechanical treatment of waste (for example sorting, crushing, compacting, pelletising) not otherwise specified

19.12.07

Wood other than wood containing hazardous substances (19 12 06) from waste management facilities. Only visibly clean waste wood is permitted; no plywood, chipboard, and chemical treatments should have been applied and originating from streams segregated at the source (such as waste wood from pallets).
The above would not include waste wood that has come from a wood recycling facility, for example, where a large volume of waste wood fuel is produced. It is in fact very limiting to the operator to source fuel, therefore it is key that you check your permit and discuss your needs with your supplier!
Wood Grading & Types
Individual sites have different requirements for their fuels, which should be monitored and recorded to ensure you are only accepting onto site what you can legally burn.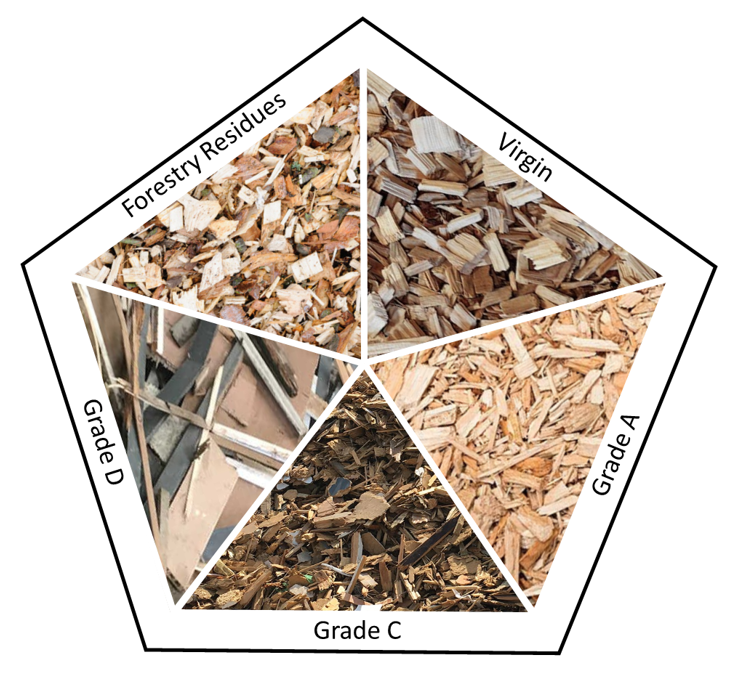 For those permitted to combust waste wood, all suppliers have a Duty of Care to provide you with accurate European Waste Codes, descriptions and regular (monthly) laboratory fuel analysis reports for all deliveries of chips and pellets.
Here are a list of some of the most frequent biomass fuels, their grading, and descriptions:
Virgin Wood: If you are not permitted to burn waste wood, you should not purchase and accept anything except virgin wood for use on site.
Grade A – EWC: 19.12.07 / 15.01.03: Also known as 'Clean Recycled Wood', which comes from pallets and packaging. No preservatives or treatments should be found if analysed, similar to virgin.
Grades B - This grade has been de-categorised and is now considered the same as Grade C wood.
Grade C – EWC: 17 02 01: May contain up to 60% Grade A wood that was rejected plus building/demo waste wood and some preserved wood and chipboard/plywood. No wood treatments or preservatives should be allowed in either Grade.
Grade D – EWC: 19.12.06 / 20.01.38: All the above grades, plus treated wood that is considered hazardous.
Forestry Residues and Agro Pellets – EWC: 02.01.03 / 02.01.07 / 02.03.04 / 02.03.99: Pellets made from agricultural residues, food processing wastes, are also considered wastes unless the manufacturer has secured an 'End-of-Waste' declaration from the EA – if in doubt, ask your supplier!
If you require any assistance regarding Environmental Permitting or advice regarding Waste Wood fuels, call the NFU Energy team on 0247 669 8899.