The Envirocrops consortium has released its game 'Cropper,' devised as a way of getting school children and students involved in agricultural and environmental studies to better understand how to grow the biomass crops Miscanthus and Short Rotation Coppice willow. These crops are seen as being key components for the UK is to meet its 2050 net zero targets.
At present, knowledge on these crops is held by a few specialist companies and academics but if the industry is to expand to possibly planting a predicted 25,000 hectares of these crops every year then there will be a need for thousands of skilled workers as contractors, consultants, policy makers, biomass traders and carbon traders. In addition, new entrants into farming will need to understand how to grow and manage these crops in the most efficient, cost-effective way whilst also benefitting the environment.
The game called Cropper has been produced as part of the Envirocrops project. This is a collaboration between AFBI, Crops for Energy, NFU Energy and Calvium and is funded by the Government's Biomass Feedstock Innovation Programme. The main ambition of Envirocrops is to produce a decision support app for crops that can be grown for an environmental gain. As there are lots of options the app will provide users with the economic and logistic information they need to make an informed decision on what crop they need to plant or use for their project. Whereas, the app will be for people already making decisions, the Cropper game is seen as a stepping stone for the next wave of farmers and rural professionals.
The game is engaging with wheels of fate, animations and climate change jeopardies. The aim of the game is to try and produce 800 tonnes of biomass in a ten year period whilst making a decent profit.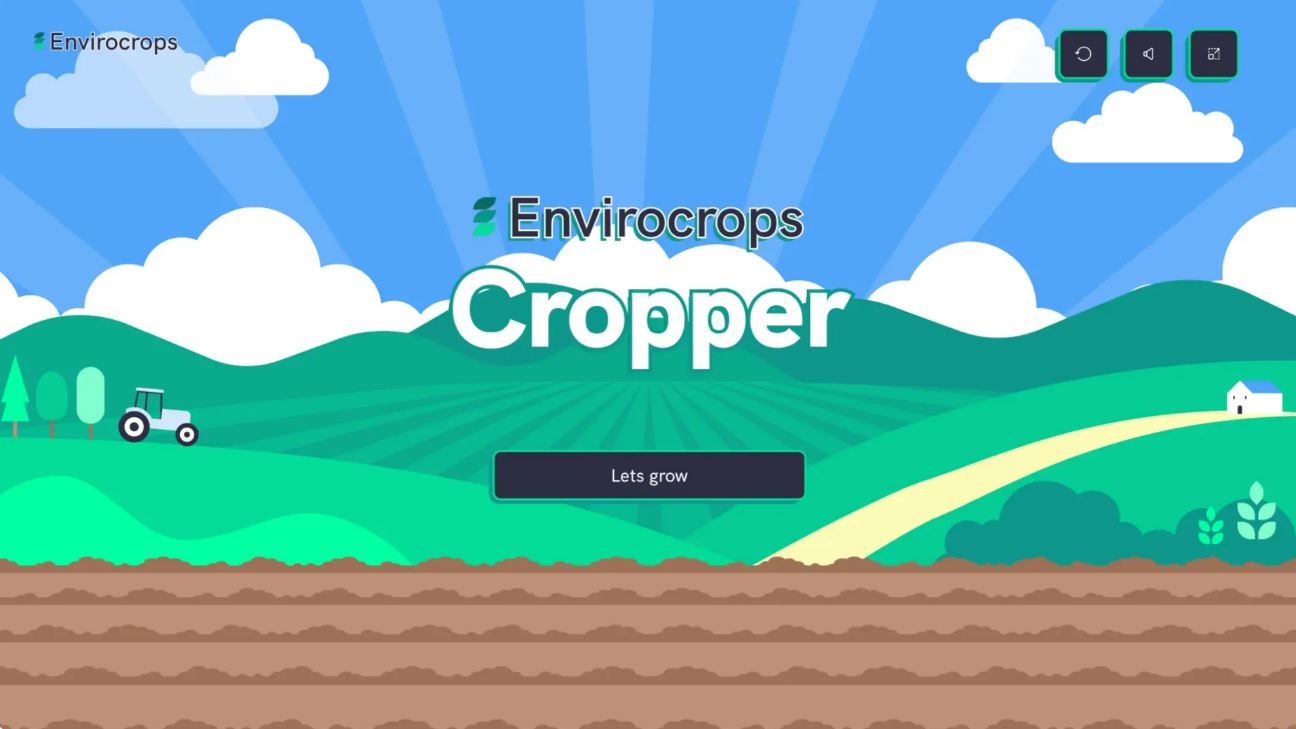 Facts for educators
Cropper is a STEM game and helps players develop skills in Science, Technology, Engineering and Maths.
Willow is one of the fastest growing trees and produces a lot of biomass in a short space of time.
Miscanthus is a high yielding biomass with low input requirements and it can be grown in a wide range of climate zones and land types.
Perennial biomass crops like willow and miscanthus can be burnt for bioenergy but can also be processed into biocomposites, biopolymers, pharmaceuticals, animal bedding and many other uses. They help lock up carbon not only in the soil but also the biomass they produce.
Carbon sequestration is seen as being a major opportunity for farmers to earn money from their land.
Biomass is the term used to describe any fuel derived from plants. This includes crop residues, wood, crops and animal waste.
Biomass crops include Short Rotation Coppice (SRC) willow, Short Rotation Forestry (SRF) eucalyptus, the energy grass Miscanthus and hemp. These crops are fast growing, high yielding and grown in dense plantations of up to 20,000 plants per hectare. Most options are perennial and grow back once they are cut to ground level. Miscanthus is harvested annually, SRC willow is harvested every 3 years and SRF is harvested from 8 years onwards.
Why biomass?
The Climate Change Committee has suggested that in order to meet Net Zero targets, the UK will require 700,000 hectares of biomass crops to be planted by 2050. There are currently around 10,000-20,000 hectares of perennial biomass crops planted in the UK.
Currently there are 3000 hectares of willow and 13,000 hectares of miscanthus grown in the UK. Meeting the CCC figure would require year on year planting of 25,000 hectares per year from 2030 to 2050.
The Biomass Feedstocks Innovation Programme is a £36 million programme, funded through the Department for Business, Energy and Industrial Strategy's £1 billion Net Zero Innovation Portfolio, which aims to accelerate the commercialisation of innovative clean energy technologies and processes through the 2020s and 2030s.
The Government is expected to publish its Biomass Strategy in the spring of 2023. It is widely anticipated that this document will set out new policy and support mechanisms that will provide a springboard for the biomass crops sector.
To meet net zero targets, it is predicted that the biomass sector will require 120,000 jobs by 2035.
About Envirocrops
Envirocrops is a project led by the Agri-Food and Biosciences Institute (AFBI) with support from consultants Crops for Energy, NFU Energy and software developer Calvium. It is being funded by the Biomass Feedstock Innovation Programme managed by the Department of Business, Energy and Industrial Strategy (BEIS). See more at envirocrops.com.